In The News
BBS Radio/ Radio 1
Donna Seebo Show
August 21, 2009
Dog Cast Radio
Julie Hill, UK
April 11, 2009
700 WLW
Jim Scott, Cincinnati, Ohio
January 14, 2009
KKOB 770-AM
Reading Albuquerque, Albuquerque, NM
January 11, 2009
KGIL/Los Angeles, CA
Pet Talk With Harrison Forbes
January 3, 2009
KSCO 1080 AM
The Dr. Pete Show, Santa Cruz, CA
December 14, 2008
Albuquerque the Magazine
Shelflife
An interview with Timothy and Cathy Glass about Just This Side of Heaven
November 1, 2008
WBZ Radio
The Jordan Rich Show, Boston, MA
September 27, 2008
AnimalRadio
Book Club Review
Those of us who have a bond with our dogs will truly understand the relationship that Timothy has with his Beagles and the grief that comes from losing them. He also shows us that there is no right or wrong way to grieve for out pets and that we each have our own way of dealing with our loss. But, no matter what type of dog you have (or any type of animal for that matter), this book will touch you!
September 24, 2008
KBQI 107.9 FM
The Tony Lynn and Myles Morning Show, Albuquerque, NM
Tony Lynn loved the book. Quote: It's a very inspiring book!
September 24, 2008
KFUN-AM
JP, Morning Show, Las Vegas, NM
August 12, 2008
KUPL-FM
Lee and Alana In the Morning, Portland, OR
August 8, 2008
KCMN-AM
Tron Simpson Morning Show, Colorado Springs, CO
August 7, 2008
WEOL-AM
Les in the Morning Show, Elyria, OH
July 15, 2008
After listening to this interview with Timothy Glass, author of Just This Side of Heaven, a Tennessee woman was deeply touched. She found his message to be so powerful that it helped her to deal with the death of her husband:
I can't tell you how much I enjoyed the interview. My husband passed away 4 yrs. ago today, July 15th, from cancer. I really liked what you said about the dash. It is more important to focus on his life, than his death. He was an incredible person. I know he is in my future.
Thanks for the encouraging talk,
J. Hegamyer, Cleveland, TN
OurDogHouse.com Global Newsletter
June 2008
This is a must read for every pet lover! If you have ever loved and lost a pet, this story is a healing journey that will grab your heart from the first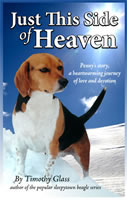 page and have you laughing and crying until the last. This is a story about love and companionship that everyone will enjoy and appreciate
I am a dog lover, and had lost my beloved bulldog. I came away after reading this book with a healing feeling; not only about my pet but also the loss of my mother. Thank you for a wonderful book.
L. Paulson, White Plains, New York
ISBN 978-0-9817067-1-9 Published by Platinum Paw Press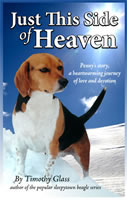 ABQDog.com
May 2008
Penny the beagle returns in Just This Side of Heaven
[May 15, 2008] Local author Tim Glass, creator of the popular Sleepytown Beagle series for children, has just released a new book celebrating the life and love of Penny the beagle. Just This Side of Heaven is a true story of devotion and the special relationship between dogs and their people. Available from Platinum Paw Press.